WHY DO YOU NEED PPF COATING?
AQuartz's PPF Base is the surest way of precautions against such damage to paint.
Once the car leaves the assembly plant, original car paint is subjected to harsh conditions.
During the normal use, it will be subjected to scratches or stone-chips from flying debris, in addition to environmental damages.
The surface will be subjected to bugs, tree sap, acid rain and bird droppings which will attack the car paint with its chemical reactions.
Also, in order to remove the above surface contaminants, we have to clean our car often.
The frequent cleaning will force the paint-surface to wear thin & weak, and make it corrode your car.
Almost, car-paint is vulnerable to external environment factors, especially, In cases of old car-paint is more.
The flood sold car-paint is thin and weak because of external environment factors(washing, cutting, polishing, weather, UV, etc), so its original color is not long lasting.
This paint damages will devalue the vehicle and affect its beauty.
Expensive repairs and repainting the vehicle will be necessary.
To preserve the original car paint from harsh conditions, many consumers are looking for the best sealant products, but because there are many sealant products available on the market, some with misleading or exaggerated claims.
It may be difficult for them to choose the most appropriate product.
Most sealants are either oil, paraffin or wax based products, they are not real sealants, it is only cosmetic wax products.
As these substances are evaporable, this layer can be removed and it will come off with a wet-towel easily, they will not last for a long time,and cannot protect the original car paint finish against external environmental damage.
Also the chemical reactions from these products may be risk-factors for discoloring and act as corrosive substance to the painted finish, and these cause the water marks.

These products are from an older technology.
We have many ways to preserve the surface of painted finishes by rubbing with oil, painting, packing with sealant, sticking with film/tape, etc.
These all have advantages and disadvantages.
AQuartz has developed "Liquid Paint Protection Film Coatings" to overcome these problems.
As AQuartz is water based, it's safey and has a easy & simple application in detailing of your vehicle.
AQuartz PPF is the best way of preserving the original car paint for a long time.
AQuartz PPF, that is to say AQuartz Paint Protection Film Coatings creates an incredibly hard-wearing, deep gloss layer which bonds to your vehicle's paintwork, doing away with the need for you to wax or polish your car to maintain its original condition.
AQuartz's PPF Coating is the surest way of precautions against such damage to paint.
The PPF layer can make to cover(protect) the weak car-paint from the damages, and add more hardness, duration and effect and the original colour of new car.
"No film layer, cannot protecting your vehicle longer "
"No film layer, no long duration"

WHAT IS PPF BASE COATING?
All the surface painted has many micro-pores (pin-holes).
When a newly the surface painted cures, the micro-pores are created from the air trapped in the paint.
And as time goes on, airborne chemical compounds, ferrous particles and dirt actually penetrate the paint, and gets stuck in these pin-holes within the paint surface.
They create corrosive compounds that eat deep into the paint's sub-layers or paint's pin-holes.
In order to keep the original car paint color in perfect condition for long time, we need a Car Paint Protection Film.
But normal Car Paint Protection Films have so many weaknesses and foibles, tricky installation and further re-installation, expensive installation charges, weak hardness, non slippery surface, etc.
To deal with these all subjects, AQuartz PPF Base was developed.
PPF Base Coating can be coated more quickly and easily.
After curing, the layer makes a Car Paint Protection Film shaped.
AQuartz PPF Base Coating protects our car from fine scratches and swirls with high 9H hardness, as well as sheltering the finish from countless environmental hazards (Including strong Acids.
Alkalis, and UV-Radiation.) as like a substitute for a normal Car Paint Protection Film.
It will also provides Richer, Glossier your car and, because it has a self-healing effect, can resurface the surface easily!!
How to peel off PPF film to see the form :
You can find out a real Coaating with this easy experiment as below :

You can see the AQuartz PPF layer on the coin coated as below picture.

It's very difficult to coat on a coin surface because it has anti-fouling function, but AQuartz PPF can be applied no matter what coin with adhesive strength.

The cured layer is very hard to separate with the coin.

If you want to peel off, after freezing it in the freezer, try to do with tweezers, you can see AQuartz PPF layer.

If Coating agent is not coated on a coin, it's nondurable, not real / best product.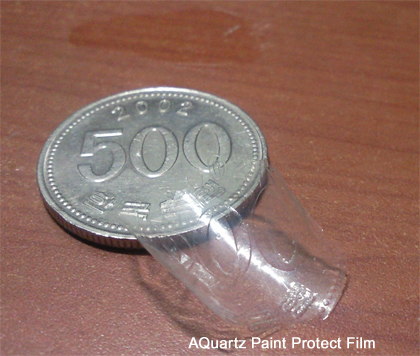 - We have peeled off PPF layer on the coin.-
​What is the difference between AQuartz coating and others?
Excellent High Gloss effect - Glass-liked transparency, maximizes the rate of reflected light, enhances new car shine.
AQuartz Coating Mechanism

:: VIDEOS : PPF BASE ;::
= PPF Base Application =
Video Reviews : Feedback / Test 
The PPF layer on the MDF desk board compared to other coatings
The PPF layer on the car paint compared to other coatings